ONLINE SHOP
Anne has an online shop, featuring a range of prints, including engaging studies of Thoroughbred foals and portraits of much-loved retired racehorses. Please let Anne know if you would like to join her mailing list.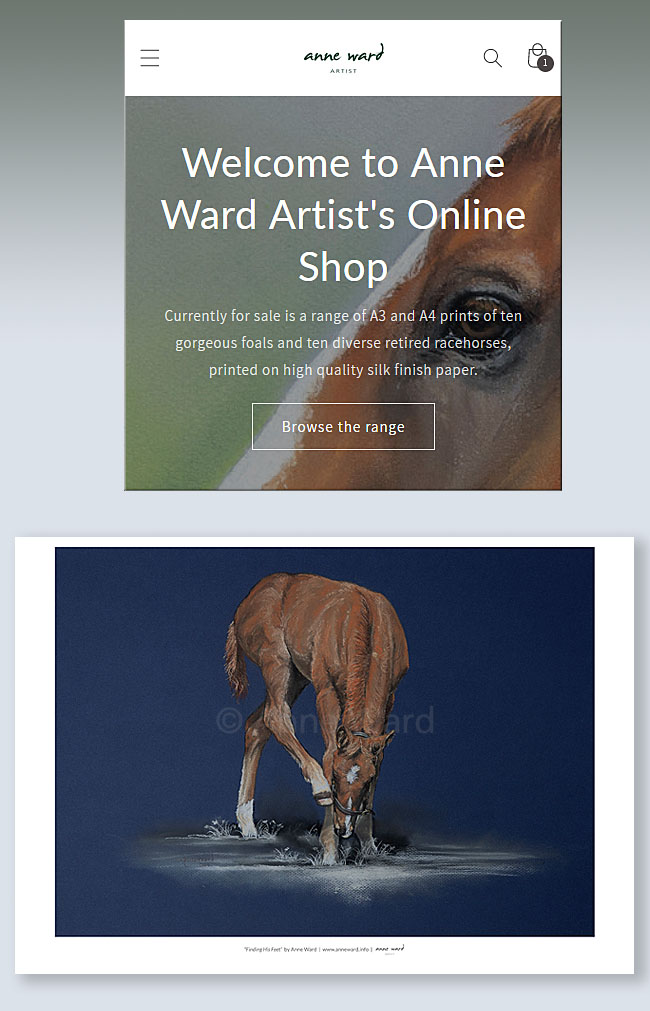 NEWS ARCHIVE
THOROUGHBRED STALLION GUIDE 2016
Anne's portrait of Pivotal and Garswood was chosen as the cover artwork for the Thoroughbred Stallion Guide 2016. The Stallion Guide was published in November 2015 and circulated across the world to all registered Thoroughbred breeders, as well as having prominent placing at the major breeding stock sales in Newmarket (Tattersalls) and Ireland (Goffs).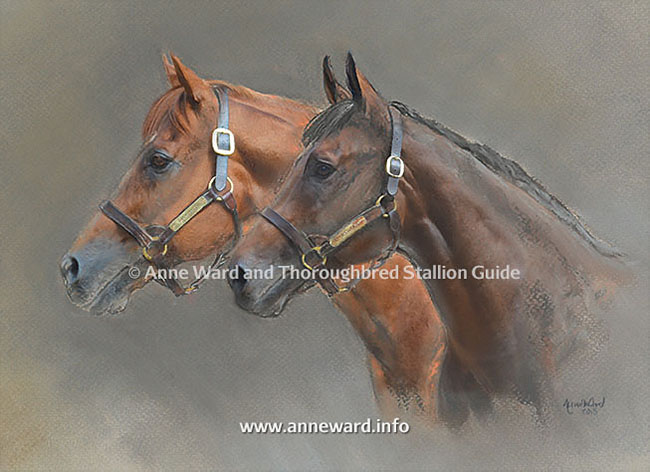 Anne was also very pleased to receive a highly favourable response to the painting from Cheveley Park Stud, who bred both stallions and stand them at stud.
Edmondson Hall Fundraiser 2017
Newmarket based charitable organisation, the Newmarket Festival, asked Anne to contribute to their fundraiser featuring the rugby "Lions", held on 25 May 2017.
Anne donated a framed charcoal portrait of a Thoroughbred to the event's silent auction.
Newmarket July Week 2014
Anne donated a single animal pastel portrait to the New England Stud/National Horseracing Museum Dinner silent auction on 3 July 2014. In total, the auction raised nearly £60,000. Many thanks go to all those who placed bids.
Newmarket July Week 2013
Anne was asked to contribute a commission to Banstead Manor's stallion show fundraiser, under the watchful eye of Frankel (July 2013).
Royal Norfolk Show 2011-2013
Anne also exhibited work for the 3rd year in succession at the Royal Norfolk Show, 26-27 June 2013.
SUNSTAR — LIFESIZE HORSE STATUE
Sunstar and The Sunstar Syndicate were undoubted highlights of recent years for Anne. The creative process was enormously enjoyable and the sale of Sunstar raised £6,500 — the highest price obtained when each of the 13 lifesize horse statues painted by local artists was sold. The proceeds of the sale helped Racing Welfare and St Nicholas Hospice.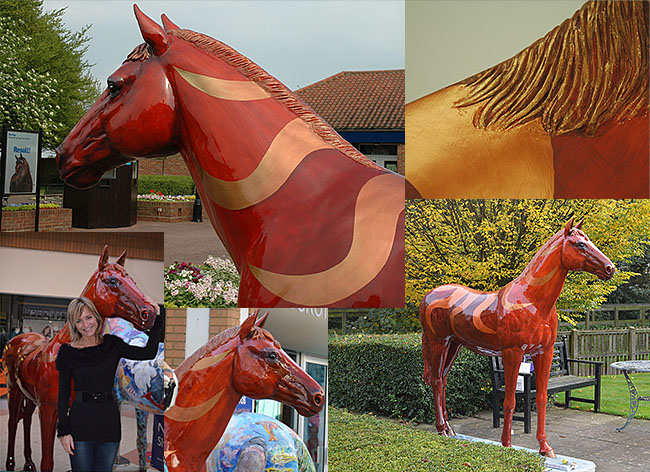 THE PERFECT GIFT
Why not plan the perfect gift for someone special, or just a treat for yourself — perhaps a portrait of a much-loved horse or dog?